"Sylvia Čápová-Vizváry, M. A., ArtD.
(March 12, 1947 Szombathely, Hungary)
She learned the basics of piano playing from her mother Gizela Čápová, a piano teacher. At the age of 7 she was admitted to the Bratislava Conservatory as a special student. At 15, along with piano playing, she attended a class in composition and conducting.
Education:
1954 – 1962 Bratislava Conservatory, special study – piano (Prof. A. Kafendová)

1962 – 1965 Bratislava Conservatory, regular daily study – piano
(Prof. A. Kafendová)

1965 – 1969 Bratislava VŠMU (University of Music and Performing Arts, Vienna), piano
(Prof. A. Kafendová)

1969 – 1970 postgraduate study in Leningrad (Prof. M. J. Chaľfin)

1970 – 1971 pupil of the eminent Polish pianist, composer and professor Ludwik Stefański
(1917-1982, Krakow) at the Musical Academy in Krakow.

1974 – 1975 Bratislava VŠMU, postgraduate study (Prof. V. I. Nosov)

1980 – 1983 doctoral study (arts postgraduate) at Bratislava VŠMU
(doc. E. Fischerová-Martvoňová)
From childhood onwards her abilities were recognised at numerous state-wide competitions in Prague, where she received first prize on a number of occasions in succession. As a 15-year-old she won first prize at the all-Czechoslovakia art schools' competition. In the radio competition for the "Studios for Youth" prize she received an honorary award. She has been a semi-finalist of the international P. I. Tchaikovsky Competition in Moscow and the international G. Enescu Competition in Bucharest.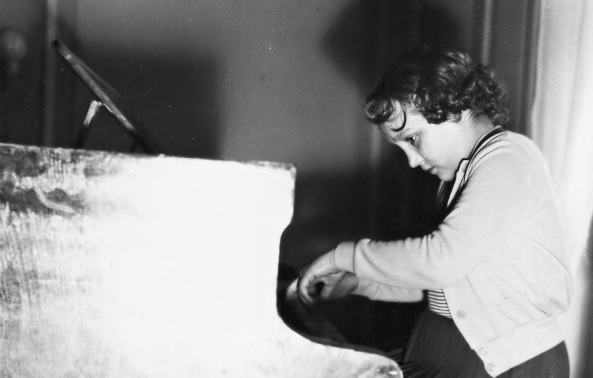 She regularly gives concerts at home and abroad (Czech Republic, Hungary, Poland, Germany, Holland, Bulgaria and the countries of the former Soviet Union, in Cuba, Brazil, Italy, Austria and elsewhere).
She has performed as a soloist with leading symphony orchestras (Slovak Philharmonia, Slovak Radio Symphony Orchestra, Košice State Philharmonia, Hradec Králové State Symphony Orchestra, Pilsen Radio Orchestra, Jena Philharmonia, Halle Philharmonia, North Holland Philharmonic Orchestra, Philharmonic Orchestra in Havana, Symphony Orchestra in Rio de Janeiro, etc.)
The recording companies Opus, Audiophon, Pacific, Naxos, Marco Polo, Amadis and others have issued CDs with her recordings.
She regularly records for Slovak Radio and Slovak Television. She has also recorded for radio in Köln.
1973 – 1975 VŠMU concert accompanist
1975 – 1980 SND Opera accompanist
1983 – 1987 VŠMU teacher of piano playing
1987 – 1995 freelance concert artist
from 1995 Universität für Musik und darstellende Kunst (Vienna) accompanist
She is much sought-after as a partner by Slovak and foreign instrumentalists and singers; her domain, however, is solo performance.